27 Fun Corporate Team- Building Activities
If you begin to notice some edgy shoulders and friction between members of your workforce, it is high time you called for a team outing. Relationship friction not only leads to operational friction and a reduction in the quality of work done but also reduces productivity and necessitates the call for managerial oversight and intervention.
To trim these edgy shoulders between members of a team, you need to consciously facilitate their bonding by organizing team outings and activities.
Group outings in addition to promoting bonding scale back worker stress and tables an opportunity for them to get to know each other outside a regulated work environment.
As good as this idea may sound, it can be quite difficult to think up team outing ideas. Googled-search results on team outing ideas could feel like the easy fix. However, they are everything but fun.
Adopt one of our ideas for your next team outing instead and watch everyone wearing a wide grin and hopping around in pleasure and excitement.
CORPORATE TEAM-BUILDING ACTIVITIES
Activities That Focus on Pure Team
1. Scavenger Games
Set a day aside for this activity. Split members of your workforce into teams and have a scavenger hunt over a large area. You could arrange one yourself by listing a number of items that need to be found or get help from organizers of such outdoor activities.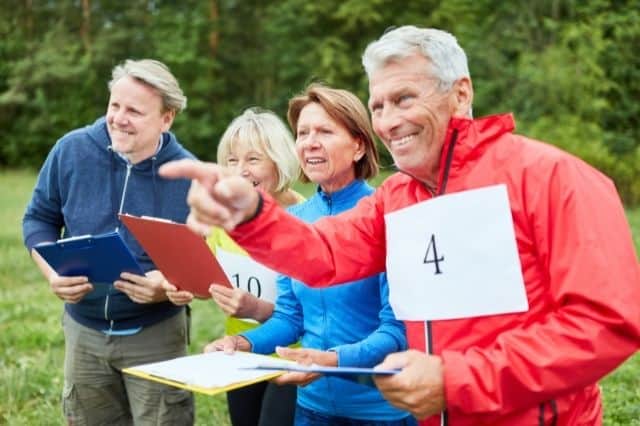 The game will make your team members feel refreshed once again and iron out all underlying causes of conflict among them – if any – since they have to work together as a team. Take lots of pictures – especially silly ones – to make permanent memories.
2. Cook-off
Creating new dishes and cuisines together requires a great deal of creativity and leadership skills. How fun would it be seeing that 'ever serious looking team member stirring some soup or a loud team member feigning leadership skills because he/she has poor culinary skills? Sounds like a lot of fun right? We thought so too.
3. Volunteer
This is a great way for team members to bond. Volunteering ideas include delivering gifts to orphanages and offering their skills for free.
4. Laser tag
This is an opportunity for team members to exercise their strategy and logic skills under a relaxed atmosphere. Two or more teams shoot laser guns – which emit a laser and an infrared tracker –  at each other. The infrared tracker sends back information that records the number of hits taken by an individual or the team collectively
5. Cooking class
Instead of visiting a restaurant, organize an in-house cooking class by a professional chef and have your employees feast!
6. Painting class
Hosts painting classes for all your employees for a more relaxing activity. It is great to let your employees catch up over some drinks and poke little fun at each other. Not to mention that they get a chance to express their creativity in the arts.
7. Catchphrase
Players team up and take turns describing people, events, and the likes without giving a name or phrase. The opposing team is then expected to give a word for the description.
Team-Building Activities that Focus on Problem-Solving
8. Egg drop challenge
In this game, the group's participants create small structures around an uncooked egg to protect it from a high fall onto hard ground.
9. Professional development workshop
Offer a shared-learning experience that helps your employees bond while providing them with an opportunity to learn and further their careers.
10. Jigsaw puzzle race
As tedious as this could look, it becomes a fun problem-solving challenge when teams are tasked with the responsibility of solving them.
11.Concentration (marketing edition)
You can have a field day putting slogans, logos and job descriptions at the back of 30 tiles turned upside down. As contestants open up tile after tile, they have an opportunity to select tiles that they knew would match. This game helps you know how well your employees know the company they work for.
12. Go-Kart racing
This adrenaline-pumping activity is a brilliant way of getting your employees to interact with each other in a uniquely different way.
13. Two truths and a lie
This is an excellent choice if you intend to integrate coworkers who do not yet know each other. Organize the group into a circle and have everyone introduce themselves. In addition to dishing out their names, they are also expected to say three things about themselves – of which only two out of them are true. The onus now rests on the group members to tell which of the three is a lie.
14. Sneak a peek
Using construction items such as clay, building blocks, or LEGOs, the game's leader creates an object or structure for every group to recreate. A member of each group then has only as little as 10 seconds to 'sneak a peek' after which the structure is hidden. The representative of each group then returns to their groups to describe what they saw after which the groups are poised to recreate the structure.
The representatives of each group are only allowed to 'sneak a peek' once again at one-minute intervals of recreating the structure. Once a group is confident about what they have built, they can then table for inspection.
15. Office trivia
Office trivia is a good way to bring people together and challenge their brains in areas that do not necessarily apply to their daily routines or work description.
Break the company into teams and offer little incentives for the teams with the most points.
16. Boardgame tournament
Board games are an excellent way of sparking the competitive sides of members of your workforce. Such games to try out include Chess, Scrabble, Boggle, Jenga. A game of cards might also suffice.
If your team is big, people should sign up for specific time slots when they can leave their desks to spend time playing the game. Since it is a tournament, prizes should be presented to the top three winners.
17. Karaoke night
There is arguably no better way to make your group members break their shells than to have them sing some karaoke. This is best tailored for people who are extroverts and would get them trying something different from 'work' with all eyes set on them.
You could divide them into groups and hold a contest for the best group karaoke performance.
18. The "suddenly' story
Gather your team into a circle. Start a story with three sentences and end with the word "suddenly" before passing onto the next person in the circle to piece the story together with a three-sentence narrative of their own.
This activity improves the creative part of team members and teaches them how to build on existing content, a useful skill they could apply to work.
Team-Building Activities That Promote Creative Thinking
19. Room escape games
Here, a group of people locked up in a room, are to find hidden objects, solve puzzles and figure out hints that will help them find the key to set them free, all under one hour.
20. Something touristy
Visit a tourist destination as a team and catch loads of fun. Go mountain hiking as a team and settle at one of its peaks for a family picnic with your colleagues at work. Imagine how fun it would be to see those who have a phobia of heights scream at the sound of stones breaking under their feet which climbing.
21. Sports game
Head out with the rest of the team to watch a game outdoors. Seeing a game of football or tennis could be a good way of revving up team spirit and competition simultaneously.
Rather than go see a game, you could organize an indoor game like table tennis or volleyball team where members of the team can put their sports skills to the test.
22. Explore a new place
Nothing seems more fun than visiting a new place mile away from the work environment. Perhaps, on a quarterly basis, you could spare some cash to go on outings. Take a historical tour of a new place, grab lunch at a restaurant and try out a new dish or take in the picturesque attraction of the place altogether.
23. Trampoline park
Give your team member an opportunity to work off office stress by jumping on trampolines. Who says trampolines are only for kids or adults? They could even try playing basketball and handball games on it.
24. Kayaking/Canoeing
Give the team members space to bond while sailing through rivers or streams. You could rent kayaks and canoes from boathouses.
25. Mystery dinner
Organize a fully-paid dinner for your employees, possibly a buffet. This might sound a little too expensive, but it is worth it if it's organized annually or bi-annually for example.
26. Improv workshop
Improv events and comedy arrangements are fun and would leave your employees roaring with laughter while subtly teaching them important communication skills such as focus and trust. You could organize them yourself or bring in professionals to assist.
27. What's my name?
This game is really fun and needs a large number of people to be involved for best results. It is an activity where every player is assigned the name of a person which they need to have displayed at their back, head, or indeed any other parts of the body where only the other players can read the displayed name.
Everyone with an assigned name then mingles with one another, treating each co-worker as they would treat the person's name displayed. You could make use of post-it notes or index cards to display the names.