What is Agile Project Management?
The new modern concept, "Agile Project Management," which is concerned with delivering high-quality results on projects, is rapidly becoming more significant as it continues to gain relevance as the preferred approach in project management today.
This concept conceptualizes a more modern and flexible approach to project management. It allows you to splinter large projects down into a series of smaller tasks that are more manageable. A technique like this makes it more convenient to monitor and tackle the project bit-by-bit over short iterations or sprints until you achieve the ultimate goal of that entire project.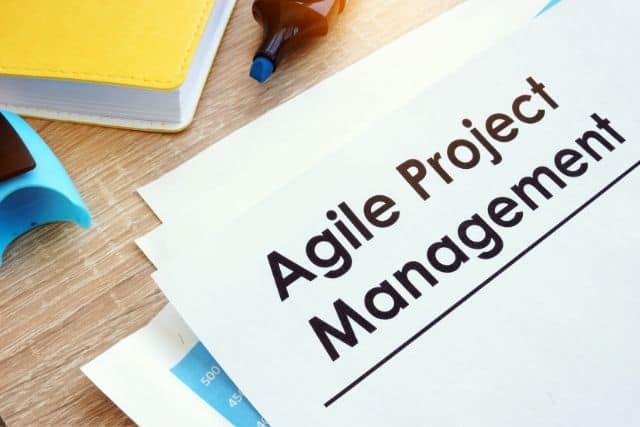 Every business needs to ensure that its projects are completed and delivered on time and budget. Failure to achieve this may not only result in a breakdown of the core values of that business but will also impact its morale and productivity. It is concerns like this and more that make project management vital. Integrating agile project management tools can help give you more clear visibility about the current state of your project.
They can also help you identify which areas of your project need more work or corrections. Also, they can help you refine your project by helping you determine which tools you should incorporate to get the job done. Furthermore, project management tools can tell you how much time your project will need to see completion.
Best Agile Project Management Tools
This list contains a lineup of the most in-demand Agile Project Development tools for all kinds of projects and business types. There is also additional information about the highlights of each tool to help you decide on which ones best suit your needs.
com
Nifty
SpiraTeam
ServiceNow
Gravity
Atlassian Jira
Active Collab
VersionOne
Icescrum
SprintGround
Wrike
Agilo for Scrum
SpiraTeam
Taiga
VSTS
Pivotal Tracker
(1) Monday.com
Monday is one of the most demanded Agile Project Management tools. This software is strategically designed with essential features like Calendar, planning, reporting, time tracking, etc. that easily make it an excellent choice for any business type or size. Also, it has a colorful user interface that makes it warm and appealing.
Best Features:
You can easily monitor project progress through Charts, Kanban, or Timeline.
There are extra functionalities that allow you to create user stories, plan sprints, or assign team members to projects.
It has well-revised features that are excellent for reporting.
Pros:
This tool provides excellent support for integration with third-party apps.
It has apt project collaboration features.
Cons:
Price:
A free trial.
Basic Plan: $25 per 5 users per month.
Standard Plan: $39 per 5 users per month.
Pro Plan: $59 per 5 users per month.
Enterprise Plan: You will need to get a quote.
(2) Nifty:
This tool offers a project management workspace that helps you to plan and execute your projects with advanced features like integrated tasks, milestones, and so on. These advanced tools are also helpful in automating your visual progress reporting. Nifty does an excellent job when it comes to integrating multiple devices to envelop the entirety of your project cycle. The program makes it easy to access your project from the big-picture perspective and the daily grinds that involve tasks, collaborations, files, and so on. 
Best Features:
There is an Overview option that provides you with a birds-eye view of the progress of multiple projects at once.
There is a Team Chat widget that allows members of a project to communicate while working on the project.
Nifty supports Kanban-style tasks in project management. You can also connect your tasks with milestones.
Nifty allows you to create documents directly within any project.
Pros:
Beautiful and intuitive user interface.
There is ease of use and easy transitioning throughout.
Excellent support team.
Cons:
Price:
Basic Plan: Free.
Standard Plan: $8/user per month.
Premium Plan: $12/user per month.
Enterprise Plan: Custom Pricing.
(3) Atlassian Jira:
This is one of the best devices for agile project management. It features tools that make it ideal for most offices, especially IT professionals and institutional designers. This tool is excellent for any project that requires working in a shared environment.
Best Features:
Adjustable Scrum Boards that can be customized to fit into your team's workflow. They provide easy viewing of the entire work in a sprint. Backlogs will automatically move to the newsprint.
Flexible Kanban boards.
It has real-time agile reporting features including sprint report, epic report, a cumulative flow diagram, release burndown, burnout chart, velocity chart, etc. that show the real-time image of the sprint.
It has custom filters with the aid of JIRA Query Language (JQL).
Developer tool integrations.
Customization workflows.
Easy to use real-time mobile apps that ensure an uninterrupted flow of work.
Over 1000 add-ons.
Multiple APIs.
Pros:
You can customize the entire tool, depending on your project's needs.
There are several out of the box features that offer long-term benefits to your projects.
The product currently enjoys a lot of patronage from both big and small companies worldwide that give it a large and active community.
This tool is helpful for start-up businesses as it is cheap for small teams.
Cons:
You may experience difficulty setting it up and learning how to use all its tools.
The too many features might make it difficult for some teams to use.
Most of the core features are only available as paid add-ons.
Price:
Cloud Plan: $10 per month (for up to 10 users for small teams).
$75 per month (for up to 15 users for growing teams).
Self-hosted Plan: $10 as a one-time payment (for 10 users on the server).
$12,000 per year (for 500 users on the data center).
(4) Agilo for Scrum:
This tool has apt features that make it an excellent choice for teams that require active and efficient communication throughout the time of project execution.
Best Features:
This tool can offer a quality real-time workflow for various kinds of agile projects.
You can efficiently organize product backlogs with apt features like prioritization, user stories, and higher-level themes.
This tool also offers a comprehensive overview of ongoing processes.
There is support for sprint planning 1 & 2.
This tool offers the exclusive ability to estimate your sprint.
The software is highly retrospective.
Access to real-time scrum board.
This tool also offers the ability to approve completed stories with just one-click.
Pros:
This tool is ideal for distributed teams.
The product is well priced.
The tool offers an excellent communication system.
Cons:
There is no mobile app.
The tool cannot host more than one project at a time.
Price:
€ 10 per month for single teams.
€ 20 per month for multiple teams.
Conclusion
Just like using sites like Online Writers Rating to compare the best writing services, you can also use other comparison websites to find the best Agile Project Management tool because this is demanded and more popular project management resort these days, there are several Agile Project Management options out there. Some of them are very good, whereas a more significant percentage is a complete waste of time and resources. However, given the long list of options that we have suggested, this post will certainly guide you towards making the right choices that will meet the specific needs of your business.