The 7 Best Asana Time Tracking Integrations for Effective Time Management
Effective project management is a crucial element of a successful business. However, it's no longer as simple as routine in-person meetings to discuss project progress. Many teams now work remotely or in a hybrid environment, meaning technology has become critical in workplace communication.
Consequently, project management applications have taken off in recent years for both teams stationed in the office and those working from home. 
Why Should You Use Asana?
Of the many project management applications available today, Asana is one of the most popular for its simple but highly effective tools which make project management more straightforward.
Within Asana, you can comprehensively organize tasks, set deadlines, and keep track of your team's work – all in one place. It's never been easier to organize teams and track the progress of several projects at once. 
Does Asana Have Native Time Tracking?
No, unfortunately, Asana does not offer native time tracking. But there's no need to worry! Thankfully, you can integrate time tracking applications with Asana, allowing you to add time tracking functionality to the Asana interface.
The good news is that there are plenty of time-tracking applications out there that integrate directly with Asana, many of which allow you to track time without leaving the platform. 
There are dozens of time tracking tools out there, but not all tools are built equal. To save you some time, we've compiled our top 7-time tracking applications that can be integrated with Asana:
The 7 Best Asana Time Tracking Integrations
1. Everhour
Best for teams and small businesses ⏱️
Everhour is time tracking software that you integrate with Asana directly, and it is one of the most popular Asana time tracking integrations on the market today.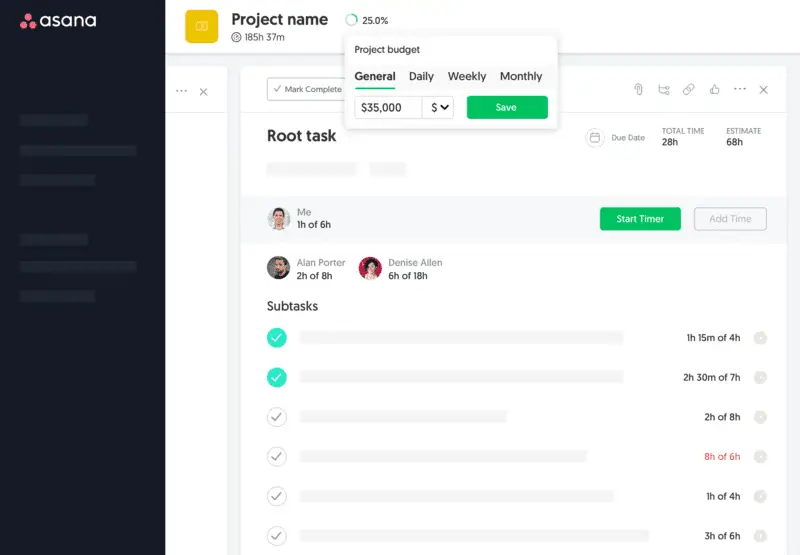 Top Features
Everhour allows you to track time, estimate tasks accurately, and set up fixed-fee or recurring budgets for your projects. Without leaving Asana, you can see precisely how long team members spend on specific tasks and projects. 
Once Everhour and Asana are integrated, you will see a timer, estimate, and reported time next to task titles, meaning it's easier than ever to track progress.
Once the task or project is complete, you can create handy reports which show a detailed breakdown of the work done by users. Additionally, you can use manual timers, set project budgets, and receive email alerts when you reach chosen budget thresholds. 
2. Tick
Best for those on the go ⏱️
Tick enables users to track time to ensure projects are profitable to ensure that work done is work paid.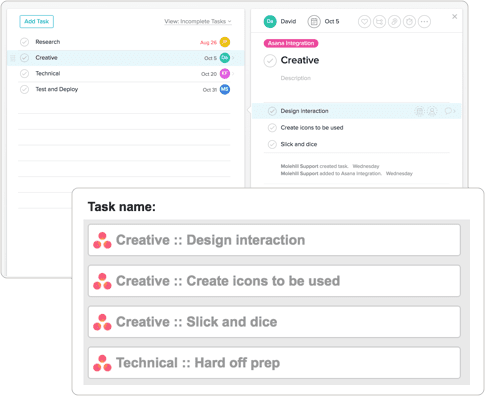 Top Features
By integrating Tick with Asana, you can quickly and easily import Asana projects into Tick. Consequently, you can assign projects to invited team members, add budgets, and import tasks to utilize Tick's useful time tracking and budget features.
Even better, the application can be accessed via desktop or a mobile device, allowing you to track time on the go.
3. Hubstaff
Best for managing field teams ⏱️
Hubstaff is an all-in-one time tracker ideal for managing field or remote teams. If you're working in the cleaning, construction, landscaping, healthcare, agency, manufacturing industries, Hubstaff is the ideal tool to ensure staff members are working as productively as possible, wherever they are.
Top Features
Hubstaff offers time tracking, productivity monitoring, reporting, GPS tracking, online timesheet, and automated payroll features. Once integrated, Asana tasks will appear in Hubstaff's desktop, mobile, and Chrome apps, allowing you to start tracking time on your projects immediately.
4. Timely
Best for freelancers ⏱️
Timely is an application that offers automatic time tracking, allowing teams to focus on getting work done. Due to its ease and accuracy, Timely is popular with freelancers who rely on accurate billing for project work.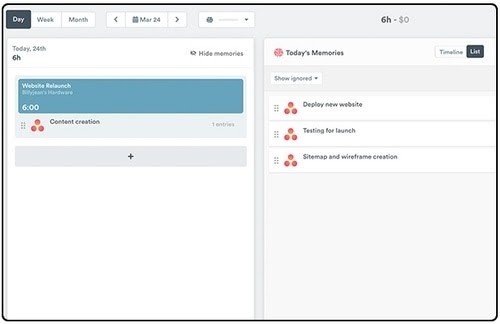 Top Features ?
Instead of relying on timers, note-taking, and manually inputting time, Timely users can automatically track time spent on websites and desktop apps.
Say goodbye to distracting interruptions! By capturing the exact length of time spent on every webpage, document, meeting, or email, Timely allows you to bill clients honestly and transparently, providing you with a detailed breakdown of the work completed.
Once integrated with Asana, tasks marked as complete will automatically appear within Timely, allowing you to keep tabs on your work.
5. TrackingTime
Best for remote teams ⏱️
Perfect for remote teams, TrackingTime allows you to measure your team's productivity in a flexible reporting engine thanks to real-time monitoring tools.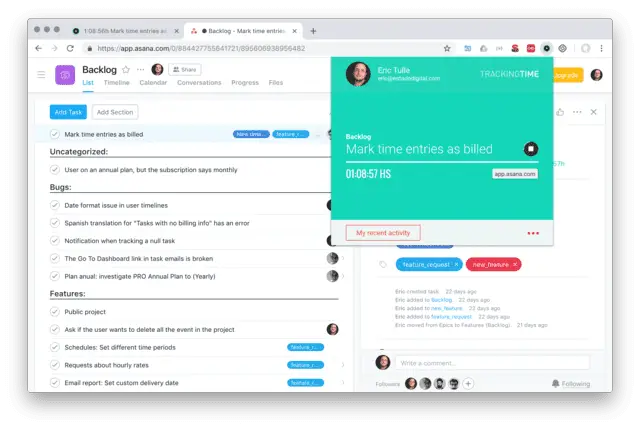 Top Features ?
Once Asana and TrackingTime are integrated, you can track time on projects and tasks within Asana using a Google Chrome browser extension. Additionally, you can create detailed timesheets for client billing, project budgets, payroll, and invoicing.
The useful time tracking tool is used by organizations of all sizes that need to keep track of remote teams.
6. TimeDoctor
Best for Mac users ⏱️
If you're a Mac user seeking an effective time tracking tool, you may want to consider Time Doctor. The time tracking application is easy to use for the whole team and offers many valuable features.
Top Features
Time Doctor is the cure for time-wasting habits, which can cost businesses surprising sums of money over time.
The application provides time tracking and employee monitoring, online timesheets and payroll features, project management and budgeting tools, distraction alerts, screenshots, activity level monitors, and compatibility with Mac devices. Once integrated with Asana, teams can track time on tasks, and managers can see what their team is working on in real-time. 
7. Timenotes
Best for mobile phone users ⏱️
If you regularly do work on the move, Timenotes would be highly suited to you due to its functionality across various devices.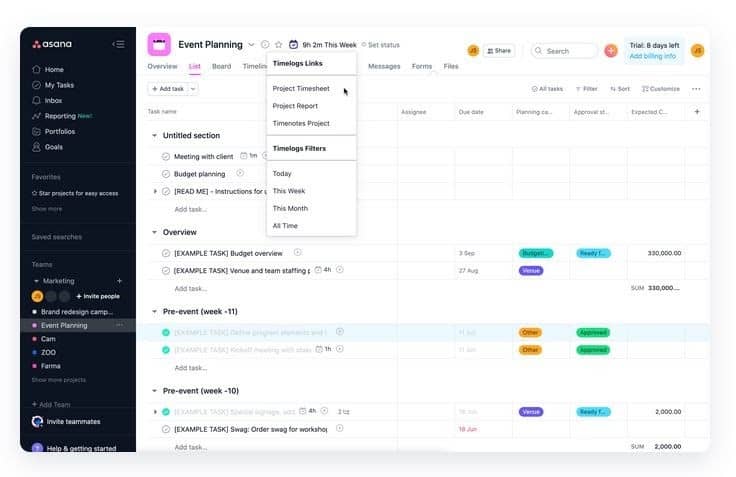 Top Features
Time notes provide a simple time tracker, an easy-to-use monthly timesheet, and powerful reporting tools that simplify the invoicing process. Once integrated with Asana, Time notes automatically locates tasks from the platform, enabling teams to track time on tasks and projects accurately.
Additionally, Time notes work across a range of different devices, meaning you can track time on the go without hassle. 
Why Use Time Tracking in the Age of Remote Working?
The coronavirus pandemic caused a remote working revolution. The virus forced businesses worldwide to move most work online, and the workforce traded bustling offices for remote working. However, while many employees have taken to remote working, some aren't adapting as well as expected. 
As you can imagine, employers are eager to ensure productivity remains high among remote workers. Consequently, many businesses are turning to time tracking software, which has a multitude of benefits: 
More Transparency and Accountability in Employees
Remote working comes with challenges. You can no longer wander over to a co-worker's desk to ask where they got to in a specific project. As a result, it can be challenging to stay on top of what employees do during work hours.
There's a solution. Time tracking tools allow you to stay updated on tasks and projects' progress, resulting in a more transparent organization. Additionally, employees are more accountable for their work output, as their activities are recorded for all who have access to see. 
Monitor Employee Wellbeing
The shift to remote working has had a significant impact on employee wellbeing. For example, some are finding that their workload has increased, and, as a result, they are working more hours. However, overworking can lead to employee burnout.
Utilizing a time tracking tool allows you to view the hour's employees are spending working, meaning you can spot the signs of potential employee burnout before it becomes an issue. 
Improved Operational Efficiency
Using time tracking is a brilliant way to improve operational efficiency in the workplace. Accurate time tracking allows you to record the billable work completed, which is then compiled into a transparent report for clients to view. The result is a more transparent billing process. 
Time tracking is an invaluable practice that helps business owners, managers, and employees. With so many brilliant time tracking tools to choose from, you are bound to find an application that suits your needs.