The Hottest Jobs in Business Management for 2022
What are the most lucrative and popular jobs in business management for 2022? In order to answer that question fully, it's important to know that the economy is currently in a rather unique state. When that's the case, there are some jobs that fall out of favor with new college grads and mid-career job changers. And, because the field is so broad and there are literally hundreds of positions open at any given time, job seekers should be aware that salaries for the most desirable positions fluctuate quite a lot based on supply and demand. 
For example, with the stock market going full force, even amid a worsening economy, brokerage firms are currently in need of trainers and business managers who have at least a few years of experience. On the other hand, due to the effects of the COVID pandemic and its effect on small retailers, there are few positions available in that field, except at minimum wage, entry-level slots. So, it's imperative to keep your eye on the financial news and study the employment marketplace. Here are more details about the hottest jobs in the industry for the beginning of 2022.
Portfolio Manager
Financial institutions, like banks, government regulators, and brokerage firms, are in need of portfolio managers who have a background in customer relations and technical aspects of maximizing the short and long-term value of investment portfolios for individuals and corporate clients. Because so many people are expecting the securities markets to enter a bubble during the upcoming months, be ready to demonstrate your ability to manage assets in volatile times and to use multiple approaches for minimizing client losses should a major correction take place.
Fleet Supervisor
If you have experience working with transport fleets, either at a managerial or lower level, 2022 could be the year you find a job that pays well, offers excellent benefits, and will never become boring. Fleet managers are responsible for making sure that trucks and other delivery vehicles get where they're going, get there on time, and arrive safely. One aspect you should brush up on before applying for positions in this field is fleet technology. It's particularly helpful to acquaint yourself with the various kinds of cameras, including dash cams, backup cams, and others.
Acquiring dash cams for your fleet, should you be hired on, will help you keep drivers and cargo safe. The devices also keep insurance expenses down and can serve as a way to advise drivers in real-time about how to avoid operational errors. Get started by reviewing an online guide that shows fleet managers how to choose the best dash cams for the type of trucks in the fleet.
Construction Business Development
The construction industry is in a state of crisis right now, and that means anyone who can bring new clients into the fold has a shot at a business management position. In construction, these types of jobs are called development, which is shorthand for finding new commercial clients. To get hired on as a business development professional, you'll need to show a strong history in sales, management, and customer relations.
Social Media Director
Social media jobs have been among the most lucrative of all during the past decade. Even if you have little experience, it's possible to secure a managerial position if you know enough about social media to make a difference. Many e-commerce companies rely on their social media presence to bring in new customers, which means your skill in navigating, setting up, and designing social media campaigns can get you a job rather quickly.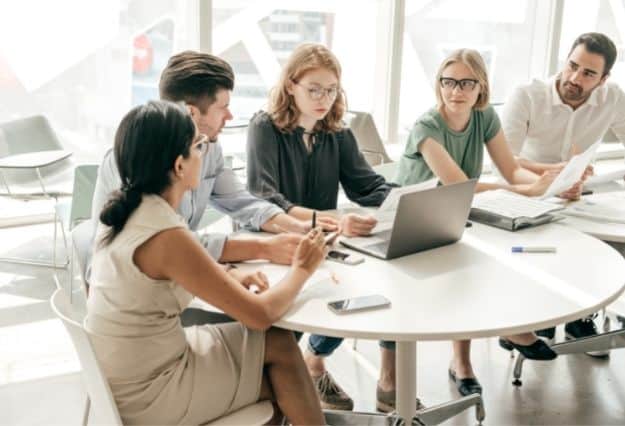 What are the most valuable skills for job seekers to have? Among the most relevant are the ability to generate positive user reviews on social media platforms, overseeing all posts by company employees to make sure they're accurate, and responding to messages and queries from current and prospective customers. Once in the job, you'll be designing new and streamlined pages that attract more viewers and more likes and establishing a new presence in the digital universe for companies that are embarking on a social media campaign for the first time.
Fundraising Veep for Non-Profits
Even in challenging economic times, with inflation at an all-time high, non-profit organizations seek talented fundraisers who have the ability to effortlessly navigate and design social media campaigns and raise money during face-to-face contact with potential donors. During your interview for one of these high-paying positions, be ready to demonstrate that you have not only the people skills but also the technical savvy to bring donations into the organization's coffers. You can get hired even if you have no fundraising experience, but it's a must to have strong people skills from a few years in sales or customer-facing work. Before the interview, do extensive research on the non-profit so you can speak intelligently about its history, recent developments, and any unique challenges it is facing.